The Naked and Famous and FMLYBND - Saturday Service
Looking at one of these Saturday Services would lead you to believe it was nothing more than a neighbor's backyard kickback. In fact, one of the performing bands, FMLYBND, simply referred to it as a "house party" on their Instagram account.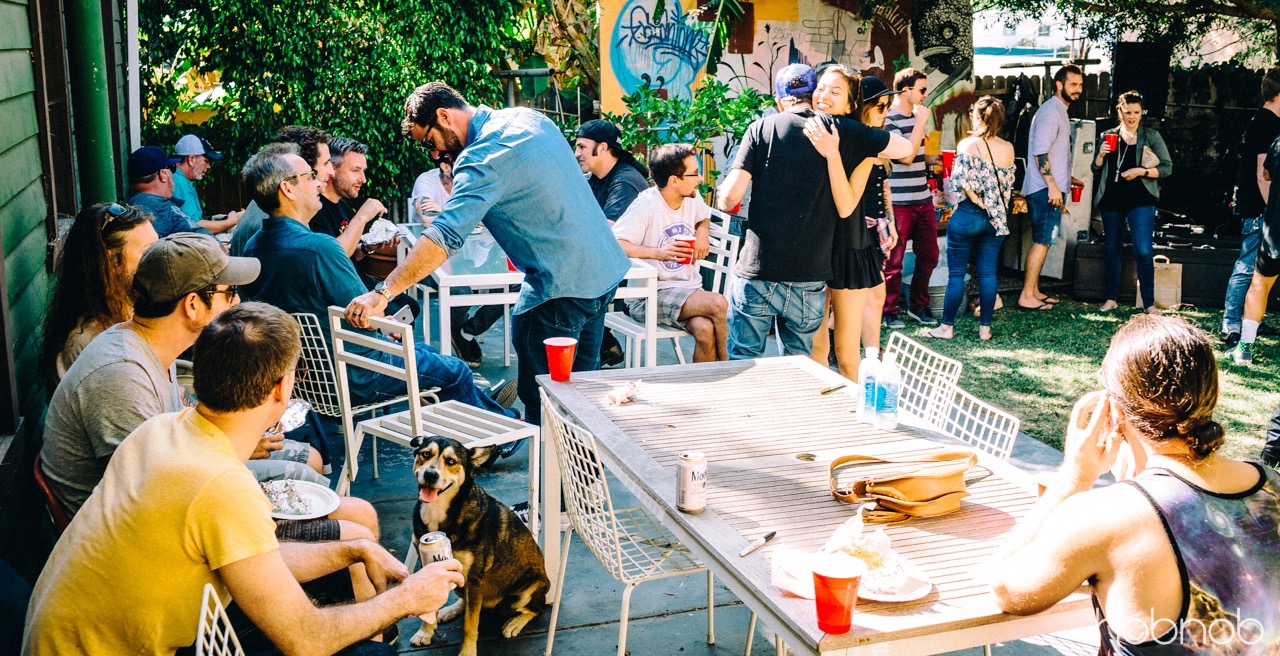 Men and women wore T-shirts and jeans, babies ate fruits from picnicware, and dogs tucked themselves next to their owners who drank beers out of red solo cups and chowed down on food from a taco bar.
But, of course, these casual attendees consisted of the world's top executives in the music and television industry, who came to hear what melodies, vocals, lyrics, and tunes Katovsich had in store, and - as usual - he delivered.
FMLYBND consists of four members who look the part of '90s skate/beach kids. Sun bleached hair, street-art inspired t-shirts, and bare feet—their style is all grunge and rock 'n' roll. But their music goes so far beyond that niche. Jumping head first into the electronic sounds of today, they press hushed voices against synth keyboard notes and percussion. Not only that, but their stage presence is enthusiastically cool. With a mission to "Make America Dance Again," they're introducing a new club-meets-street sound that had everyone at the Saturday Service (and will soon have everyone on their West Coast tour) swaying, nodding, and swaying to the movement of their songs.
The Naked and Famous are a group whose story has as much heartbreak and suspense as any great film they're featured in, and whose sound is like a rolling wave washing over you.
Hailing from New Zealand, the group saw success of their indie-pop debut album, Passive Me, Aggressive You. With hauntingly intimate vocals, raw instrumentals, and synthesized mixes, they melded rock, pop, and electronic into a showstopping sound. Even when they softened the darker tones of their music, The Naked and Famous had the ability to pair beats with lyrics to touch upon their audience's emotions.
There was no doubt that "TNAF", as they're fondly known, was on the rise, so they made the move across the Pacific to Los Angeles, California. Then, a potentially devastating rift formed - two of the founding members, Alisa Xayalith and Thom Powers, ended their relationship. Having met at the age of 18, they'd been writing songs since that first fateful day, and the hurt that resulted affected the group as a whole.
"People were trying to get off the bus, dragging their suitcase down the road in the middle of the night in the middle of nowhere," bass player David Beadle remembers, "when the tour bus finally stopped, everyone made for the exit and didn't look back."
"We weren't talking about whether we'd broken up the band because we were so broken as individuals," adds keyboardist Aaron Short.
For all intents and purposes, it looked like The Naked and Famous were done for; their melodies fading into the past. But Thom was not ready to let that happen. His fear of failure, disdain at having wasted any time, and passion for the band resulted in a new batch of demos in early 2015.
Eventually, the members joined together in a small studio in Downtown LA to work on a new album. There was no denying the pain amongst the bandmates, and you can hear it in the lyrics and the dropping fluctuations of the melodies, but everyone had also matured and grown from the experience.
The result is an album that is immediate, personal, and hits every emotional chord we strive for in a song. It's a close look at humans and the way we are both simple and complex at the same time, and it was this that Katovsich heard and knew was something BIG.
The band took the stage beneath string lights hanging from the branches of trees in Silverlake, California and cried out into the night while their instruments flooded the air. Katovsich's guests danced and moved to the rhythms and escaped into the ethereal magic that was being created in front of them.
There's no denying the power of music and John Katovsich knows when a band has something extra special. His Saturday Services are intimate events that showcase these talented artists while feeling as casual as a backyard gathering.
Be sure to keep an eye out for more Saturday Services with John and Hobnob.