Journey to Essence Festival 2016
African Inspired clothing brand Kibonen NY and its Creative Director Kibonen Nfi's popularity skyrocketed when she was featured on Humans of New York.
Humans Of New York feature below:
(1/3) "I used to work at a bank in Cameroon. I designed clothing as a hobby, but I never really saw it as a possible profession. There really is no such thing as a 'fashion designer' in Cameroon. If you make clothes, you are known as a 'seamstress.' When I arrived in America, I realized that it was possible to pursue a career in fashion. At first I tried to become as Western as possible. I tried to change my accent. I wore extensions and straightened my hair. I started wearing high-end name brands. But when I finally went back to Cameroon for a visit, I was able to see my country with new eyes. I'd always viewed the culture as local and primitive because it was all I'd ever known. But having gotten some distance, I could appreciate its beauty. As soon as I got back to America, I cut my hair and sewed myself a traditional dress. I wore the dress to my job at Saks 5th Avenue, and a customer asked me where she could find it in the store. That gave me so much confidence."
— Kibonen Nfi
(2/3) "It began to seem like my destiny was to be a fashion designer. So many things started happening for me. I started studying fashion at the Art Institute. I was invited to show at Fashion Week in South Africa. I won an award for emerging designers. Then right before graduation, the greatest thing of all happened. I got an email from my favorite actress's stylist. You have to understand how much I loved this actress. I used to daydream about being her best friend. She was my inspiration. She was the model I used for all my sketches. And now she wanted to wear one of my dresses during a trip to Kenya! The stylist requested that I send ten samples to choose from. I borrowed $5,000 to make the dresses. I worked for weeks. I couldn't sleep. I even skipped my final portfolio presentation to deliver the samples. I told everyone: my friends, my professors, and even the president of my school. Everyone hugged me and said: 'We aren't surprised. You have so much talent. You were meant for greatness!' Over the next few weeks, I refreshed the actress's website all day long, waiting to see my dress."
— Kibonen Nfi
(3/3)"I had to go back to everyone I knew and tell them that the actress decided not to wear my clothes. The stylist sent back all ten pieces. I was so embarrassed. I felt like a failure. I got so depressed that I had to move out of the city for a few months and live with my sister in Maryland. I've been doing a lot of praying and going to church. And I feel at peace now. I think that God knew I wasn't ready for success. If my career had taken off then, I'd have thought it was from my own strength. I was feeling too proud. I needed to remember where my talent came from. I've been praying so much. And I'm in a good place now. I'm ready to start moving forward again. And it's really unbelievable that I just ran into you. Because I just came into the city for the afternoon to buy some fabric."
— Kibonen Nfi
Kibonen's Humans of New York feature not only led to the crashing of her Kibonen NY e-commerce site ( due to extreme traffic), it also brought her an Investor who has been able to make many of the brand's dreams come true.
Kibonen used this investment to set up a clothing factory in her hometown in Bamenda, Cameroon. Over 2,000 pieces of clothing were produced in the factory in a one month period and they will be showcased at this year's Essence Festival in New Orleans between July 1st and 3rd.
Hobnob was at the promo photoshoot in NYC for the KNY brand. Below are a few Behind The Scene photos from the shoot with Supermodel and Albinism Activist Diandra Forrest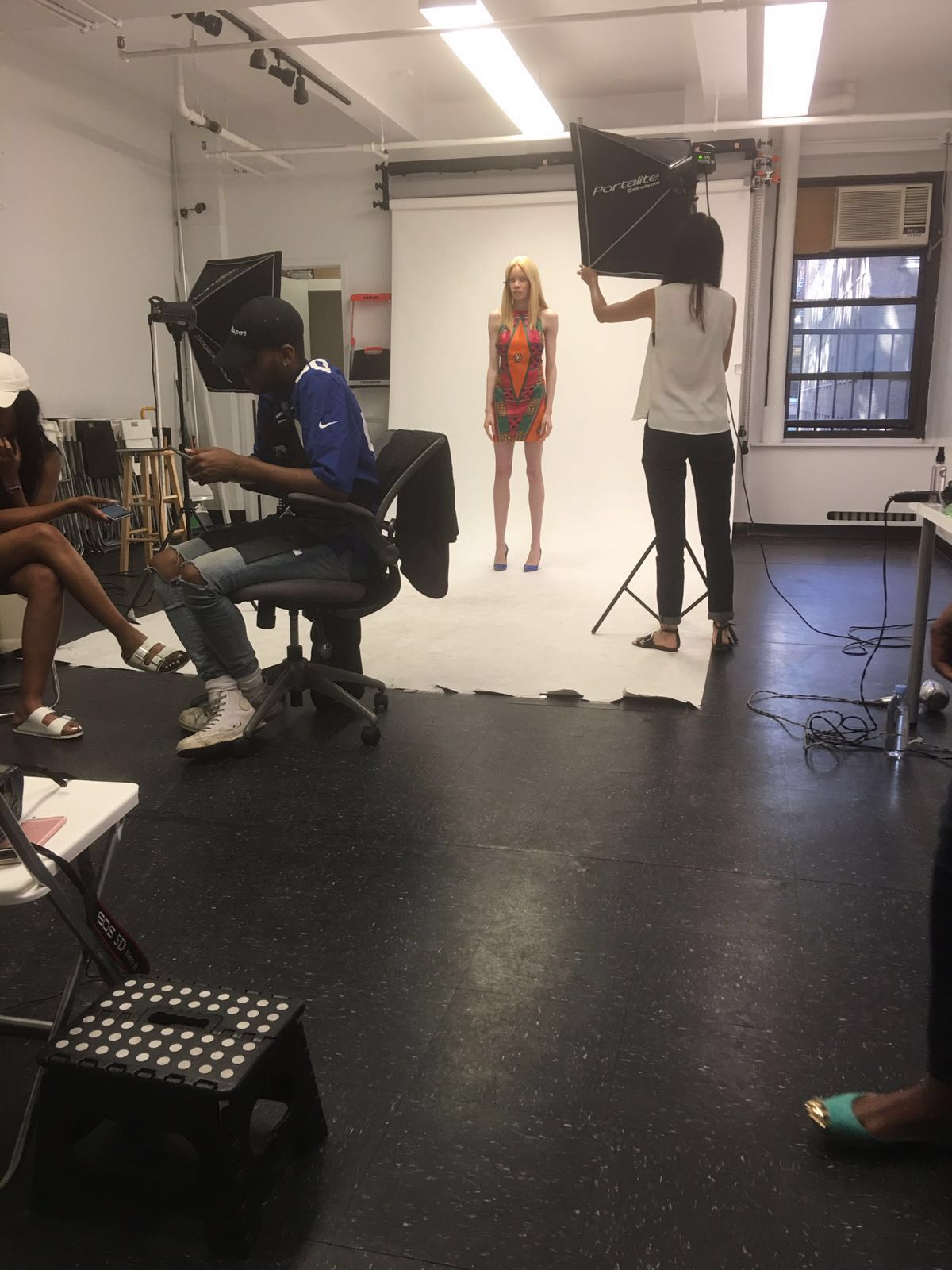 If you are headed to New Orleans for Essence Festival be sure to text #KibonenAtEssence to 462 662 for up to date information of everything Kibonen will be up to.